Welcome back to our monthly feature - The Booksellers' Book Club. Here you will find out what Avid staff members are currently reading, have just read, and plan on reading next.
~
CHLOË
This month has been great for me so far as I've been on uni holidays and have just spent 10 days in Japan! I brought two books with me to Japan and an audiobook, but I finished them within the first few days. So, obviously, I had to buy some more books. I gave myself a rule that I could only buy books by Japanese authors that I'd never heard of before. The result was Confessions by Kanae Minato and Record of a Night Too Brief by Hiromi Kawakami. In the last two weeks, my uni readings have been finalised, so I'm trying to get a head start on those as well!
Just Read:
A Wizard of Earthsea by Ursula K. Le Guin
As I would be visiting the Studio Ghibli museum in Japan, I really wanted to read something that would get me in the mood for some excellent anime (this book has been made into a series by Studio Ghibli). So this was my flight reading, and it was so wonderful! It was written all the way back in the late 60s and it was a hugely important work for so many fantasy novels that came after. The story follows a young boy, destined to be a wizard, through his schooling at a wizard school and onwards to vanquish a dark power that's threatening the world - sound familiar? This book is the best! - Fantasy/ YA
Saving Montgomery Sole by Mariko Tamaki
I was putting this book in the Wild Things newsletter when I realised that I had to have it. The cover and the description were just too good to ignore. I devoured this book on a flight and felt very satisfied (although, the protagonist was always eating chips, so you may develop strong cravings that can only be satisfied by following suit). The story follows 17-year-old Montgomery Sole who longs for a bit of mystery and magic in life. It's offbeat, quirky, and a lot of fun. - YA
Confessions by Kanae Minato
I picked this book up in Japan after I had finished the ones I'd brought with me and I'm so glad I did. This book is amazing. It's an intense Japanese revenge thriller full of twists and turns. The main story follows a grade 8 teacher who discovers that some of her students have been involved in the death of her daughter. To exact her revenge, she holds an epic end of term lecture that sets an intricate plot in motion. The story is told through 5 different voices and each part reveals a new side to the dark events. - Thriller
The Hunter by Julia Leigh

This book is a set reading for my Gothic Literature course coming up at UQ this semester, and it has also been made into a movie with William Dafoe. It follows a solitary character known only as M as he hunts the last known Tasmanian tiger. M is on a top secret mission from a biotech company who wants to use the tiger's biological matter for experiments. This book is certainly dark and super depressing, especially for animal lovers (like me!). I cried pretty hard when I finished it. - Gothic/ Thriller
Deep Secret by Diana Wynne Jones
I listened to the audiobook of this one and it's just so much fun. It involves parallel dimensions, secret Magid (wizard) business, centaurs, and lunatic emperors. - Fantasy/ YA
Currently Reading:
Record of a Night Too Brief by Hiromi Kawakami
This is one of the books I picked up in Japan and it is so weird! It's like reading a transcript of someone's slightly creepy dreams. I'm intrigued, and I definitely want to keep reading. - Short Stories
Dracula by Bram Stoker
I'm actually surprised that I've never read this book before. I love horror and gothic, and this one is legendary. Not to mention, I'm an absolute Buffy nut. I'm listening to the audiobook of this one and it's read by a stellar cast (Alan Cumming, Tim Curry). Absolutely loving it so far. It's everything I hoped it would be, and more. - Classic/ Gothic
The Animators by Kayla Rae Whitaker
Kayla Rae Whitaker is coming to Avid Reader next month and we will be holding an in-conversation with her! How exciting! So, I'm reading this book in preparation for the event. I'm only about 100 pages in (it's around the 400-page mark) but I'm really enjoying it so far. It's about two young women who strike up a friendship at college and begin an animation studio together. As they begin to realise their success, their pasts creep up on them and threaten to ruin everything. I can't wait to see what's going to happen next! - Fiction
Join The Young and the Restless Book Club in conversation with Karla Rae Whitaker on Thursday 10th August!
To Read:
I've got 20 (1 down!) books to get through for my uni subjects, Gothic Literature and Women Writers, so prepare to see books on these subjects next month!
~
SARAH
Just Read:
Gather the Daughters by Jennie Melamed
A disturbing debut novel, Gather The Daughters opens in an unknown year, on an undisclosed island, where a strictly enforced set of religious commandments rule the lives of the villagers. Generations ago, the 'ancestors' saved their people from the wasteland beyond the water, and the rules they set down are law. Following several of the young girls on the island of different ages, the reality of their lives and their futures are slowly revealed to the reader as the girls themselves learn and either come to terms with it, or rebel against it. The shocking revelations are almost more shocking by how normalized and ingrained they are within the society - in our own world it's a call to stand up against certain voices trying to move the line of what is acceptable and normal. Anyone who enjoyed The Natural Way of Things, The Power, or A Handmaid's Tale should give this one a go.
Manhattan Beach by Jennifer Egan (not out until October)
Jennifer's previous book A Visit From A Good Squad is one of my favourites, and I'm very happy that the 6 year wait for her next book resulted in Manhattan Beach. In 1934 Brooklyn, young Anna follows her father everywhere, and helps create a relaxed feeling while Eddie goes about his job working for the unions during the depression. 8 years later, the war is in full swing, Anna has grown up and is working at the docks, she dreams of becoming a civilian diver for the war effort, and her father has been missing for several years. A chance run in with a gangster Anna recognizes from her father's past might finally give her some answers. Although written more straightforward than Goon Squad, Manhattan Beach is rich, powerful, violent and tender.
Currently Reading:
Idaho by Emily Ruskovich

This one was from earlier in the year, but over the past few months I've heard so many good things and I was finally able to pick it up. One hot August day a family drives to a mountain clearing to collect birch wood. Jenny, the mother, is in charge of lopping any small limbs off the logs with a hatchet. Wade, the father, does the stacking. The two daughters, June and May, aged nine and six, drink lemonade, swat away horseflies, bicker, sing snatches of songs as they while away the time. But then something unimaginably shocking happens, an act so extreme it will scatter the family in every different direction. In a story told from multiple perspectives and in razor-sharp prose, we gradually learn more about this act, and the way its violence, love and memory reverberate through the life of every character in Idaho.
To Read Next:

A Horse Walks into a Bar by David Grossman
This book recently won the Man Booker International Prize and I can't wait to see what everyone is talking about. At a comedy club in a small Israeli town, an audience that has come expecting an evening of amusement instead sees a comedian falling apart on stage; an act of disintegration, a man crumbling, as a matter of choice, before their eyes. They could get up and leave, or boo and whistle and drive him from the stage, if they were not so drawn to glimpse his personal hell. I can't wait!
~
KRISSY
Just Read:
After the Carnage by Tara June Winch
I remember reading Tara's first novel Swallow the Air almost ten years ago and being moved by both the story, two kids in search of a father, and by the lightness of touch in the telling. Tara is an ex-West End Aboriginal woman who used to be a regular customer at Avid Reader. She moved to France several years ago and has been working on this collection of short stories. There is a lot of pressure after a debut that is so successful, and writing short stories is a good way to deflect some of that pressure. Short stories are not the most popular form and so this little gem of a book has slipped under the radar. The stories are told through the eyes of outsiders from many different cultures and all walks of life and Tara has embodied these people truthfully. The same lightness of touch here. The same quiet careful eye. Tara has used her time in France effectively. She has proved that she is no one hit wonder, but a literary force to be reckoned with.
Currently Reading:
The Circle and the Equator by Kyra Giorgi
A child in Angola is the victim of a bomb explosion in 1978. The pieces of shrapnel start to emerge one at a time through her skin. She collects them in a jar, these pieces of something else that have passed through her. This is the title story of this collection and the stories within are like those pieces of shrapnel. Each story emerges, jagged, unexpected, out of place, causing damage. These stories feel like the works of a great master storyteller. It feels like Georgia is stepping straight off the block to take her place beside great European writers like Nabokov and Bulgakov. I found myself checking to see if she had written a dozen books that I didn't know about, her writing seems so fully formed. That isn't so surprising when you find out that her mother that this book is dedicated to is Gail Jones. I can't wait to find out what Giorgi does next.
Hunger by Roxane Gay

I was sitting on a bus one day listening to two private school boys talk amongst themselves. They were saying that it was kind of okay to bully fat people because they are a burden on the economy and that it is their own fault they are fat because they are lazy and greedy and that fat people were going to get diabetes anyway. In that one conversation I saw a whole lot of problems being played out. People assume things about fat people. They assume we are unhealthy, defective, lazy, greedy. They assume we eat fast food three times a day and will drop dead at 50. Fat people are the target of jokes, they are the buffoonish side characters playing against the slim romantic leads in every movie, TV show and most books. People like Roxanne Gay who put fat people front and centre as the protagonist of their own story are rare and so I raced to get this book as soon as it hit the shelf. Roxanne's story is not every fat person's story, it is Roxanne's very personal journey away from sexual abuse and towards a body that she hoped would not be considered sexual at all. Now, as a fat person, the way society relates to Roxanne feels universal, the judgements made, the disrespect shown to her, the random strangers who give her 'helpful', unwanted and unneeded advice about her lifestyle choices - these are things experienced by all fat people. Those boys speaking together on the bus are the voices of their parents and their friends and, unfortunately, the men they will become one day. I hope those boys, their parents and friends stumble across a copy of Roxanne Gay's book one day. It is a powerful and honest voice that goes a long way to addressing many of the issues facing fat people. We may be the punchline in all the jokes but if people get to hear our voices, clear, strong and honest as Gay's voice is, then maybe they will be hesitant about throwing the next punch, or laughing when a punch is thrown.

Fermenting For Good; Ancient foods for the modern gut by Sharon Flynn
I have been fermenting for two years. I took it up after a horrible bout of pneumonia. On my sick-bed I was reading a science magazine and it was an essay about gut bacteria. The fermentation revolution was about to explode and the idea of the importance of gut bacteria to our whole bodies was very new. I decided it couldn't hurt to try adding fermented food to my diet. I could see if it helped me to recover from the illness and boost my immune system. And it totally did. I started with Kombucha and Kim Chi and Sauerkraut and those early experiments have lead to a complete change in my diet. Fermented food is now a part of almost every meal and my kitchen has never been so busy and so tasty. I have tried out most of the fermenting books that are around, but this particular book has some recipes that are not in any of the others and it is written with heart and in a way that is really easy to follow. Sharon Flynn is one of the founders of The Fermentery, an award winning fermenting company in Victoria. She spent some time in Japan learning to ferment the Japanese way so there are a lot of Japanese fermentations in the book. I am slowing working my way through these recipes but I am already hooked on Tepache, a fermented pineapple drink from Mexico that is a great alternative to your evening glass of wine.
Black Hole Blues and other songs from outer space by Janna Levin
In 1916 Einstein predicted the existence of gravitational waves. He did this through pure mathematics but he was a little less convinced that we would ever be able to prove that gravitational waves exist. In 2016 we detected gravitational waves for the first time at a facility called LIGO. It was game changing for science. This book looks at this detection and how we proved a theory that was 100 years old. Nothing happens quickly in science but when it does it shifts our understanding completely.
~
HELEN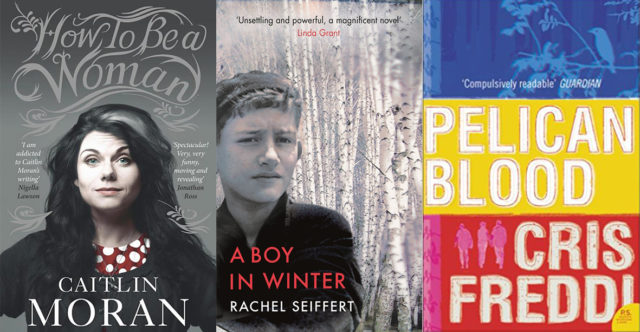 Just Read:
How to be a Woman by Caitlin Moran

- Memoir
Currently reading:
A Boy in Winter by Rachel Seiffert

- Historical Fiction
To Read:
Pelican Blood by Cris Freddi
- Fiction